+

McFadyen Group - Plant Hire and Pipeline Construction

McFadyen Group (MFG) is a leader in the pipeline construction industry and continually grows its business to meet ever expanding Client needs.

McFadyen Group is a privately owned civil works contracting company located at Yatala in Brisbane and specialising in pipeline and associated concrete works construction and plant hire. MFG's owner and key staff each having many years' experience in the civil contracting industry at pipeline construction projects of all scale and at various locations throughout Australia.

MFG has successfully completed plant hire and pipeline construction and plant hire to a variety of major projects, as sub-contractor to major civil contracting companies and/or Government Departments and Local Authorities associated with:
Pipeline construction
Highway construction and upgrades;
Railway line construction;
Tunnels;
Mining infrastructure;
Coal Seam Gas
LNG Gas Works

Subdivision services (being external and internal infrastructure);
Airports;
Sewerage Treatment Works and Pump Stations;
Plant Hire throughout Eastern Australia
+

Time Lapse Video Watch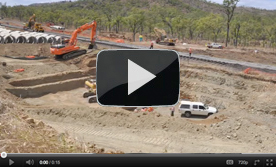 "Missing Link" - Coal Connect Project; Bowen Basin, Queensland
+

E-Brochure Download Now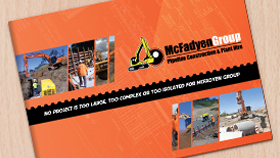 Follow the link to download your PDF copy of McFadyen's latest E-Brochure...
+

Pipeline constructionMore

+

Plant HireMore

+

Concrete StructuresMore